WES Approved Universities in India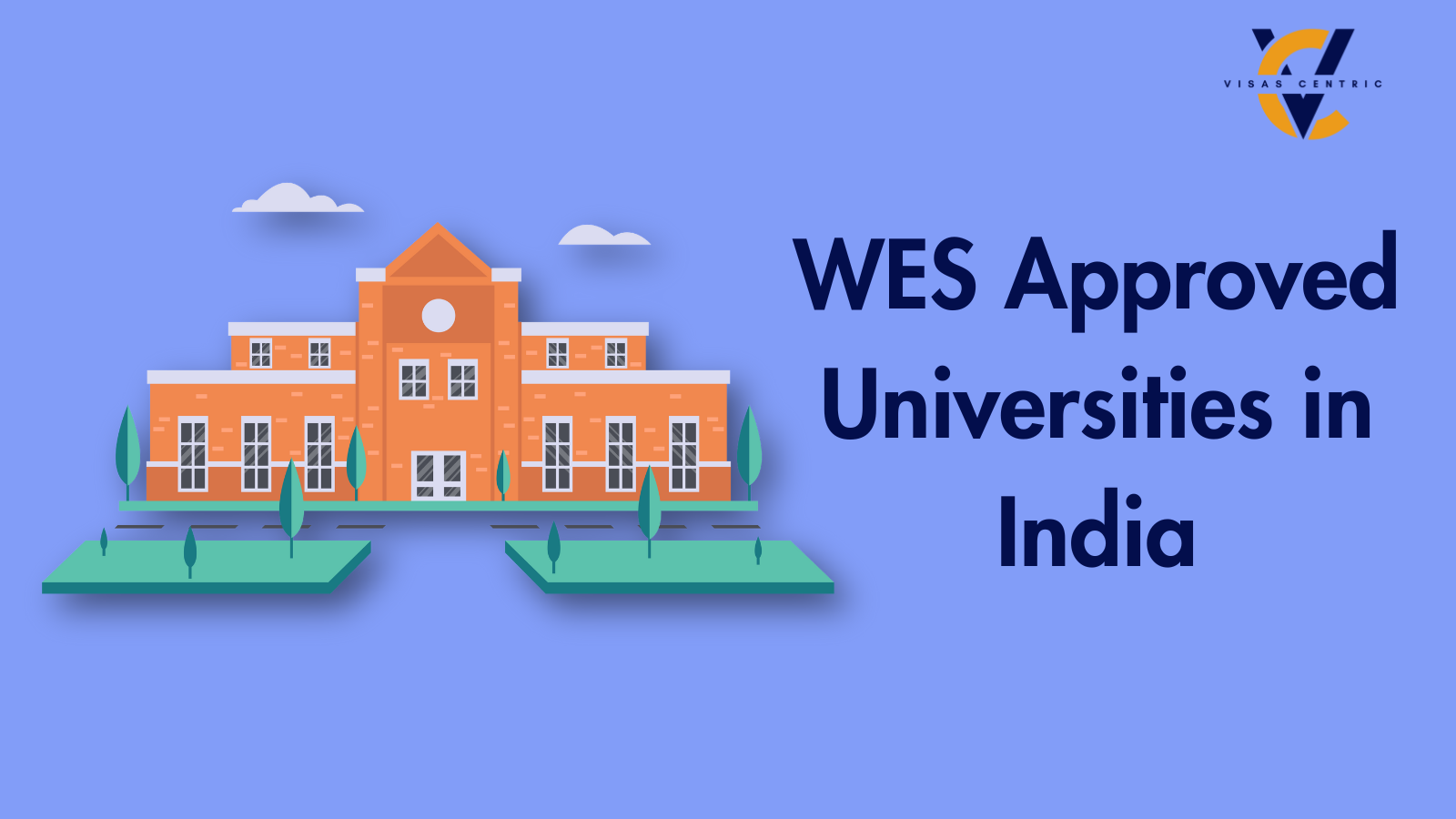 In the journey of pursuing higher education or seeking opportunities abroad, international students and individuals aiming to immigrate to Canada on a PR visa often encounter the key role played by World Education Services (WES). WES is an authorized busy guiding individuals to integrate their credentials from WES approved universities in India into the Canadian format, facilitating smoother transitions into Canadian educational or professional careers. Its main role is to help international students and professionals validate their educational qualifications to Canadian standards. Through WES, international students and prospective immigrants can easily navigate the educational equivalence process, particularly if they graduated from WES Approved Universities in India.
The Role of WES in Education Credential Assessment
Moving to a new country is like starting a new chapter in a book; it's thrilling but also a bit nerve-wracking, right? You're not just packing your bags but also your years of hard-earned education. This is where the Educational Credentials Assessment (ECA) steps in, reassuring you by helping you carry your educational achievements with you, making sure they shine brightly in Canada, whether you are an international student or looking forward to settling there on a PR visa.
ECA: Why Is It Important?
Imagine having a compass that guides you through the unfamiliar terrains of the Canadian educational landscape, helping you place your educational milestones from WES Approved Universities in India at the right spots. That's exactly what ECA aims to be – a reliable friend who understands the worth of your educational journey and helps you navigate through the Canadian system with confidence and ease.
WES: A Trusted Partner of Canada Immigration
In 2013, WES partnered with Immigration, Refugees and Citizenship Canada (IRCC), forming a partnership built on trust and a mutual goal to smooth the transition to Canada Immigration for people like you. This collaboration is a symbol of hope, a sign that you're in safe hands, and a journey that is guided by expertise and understanding.
Facilitating Seamless Integration into the Canadian Education System
WES is always there to lend a hand, assisting international students who want to study in Canada and immigrants in translating their educational stories into a language that Canada understands and appreciates. It's like having a translator who can sufficiently convey the value of your degrees, diplomas, and certificates in the Canadian educational narrative, making your transition not just easier but also meaningful.
Leveraging WES Reports for Immigration Points
Exploring the path to immigration can sometimes feel like learning a new language. It's a journey filled with surprises, where every detail holds significance. It's a known fact that immigrants can claim points related to education after a successful ECA is done. To make the most of your WES report, ensure that you:
Get Familiarized with the Rules: Take some time to understand the specific criteria that can earn you those precious points in the immigration process, especially if you are from one of the WES Approved Universities in India.
Gather Your Tools: Assemble all the necessary documents and ensure they align with the standards set by WES, paving the way for a seamless evaluation process.
List of WES Approved Universities in India
If you're eyeing a future in Canada, either for further studies or settling down, it's a smart move to check if your Indian university is recognized by World Education Services. This recognition not only smoothens your journey later on but also adds a stamp of credibility to your educational qualifications. Let's take a closer look at some of these universities and why opting for them can be a beneficial step.
Why Choose a WES-Approved University?
Going to an Indian university that has WES approval can be a game-changer for students and professionals planning to move to Canada. It essentially means that the university meets the standards set by WES, making the credential evaluation process later on much simpler and straightforward. Moreover, it adds a layer of trust and credibility to your qualifications, which can be a significant advantage when you're eyeing opportunities in Canada.
A Peek at Some WES-Approved Universities in India
To give you a head start in your search, here's a table presenting the list of universities approved by WES. This should help you narrow down your options and make an informed choice.
University Name
Ahmedabad University
Aligarh Muslim University
All India Institute of Medical Sciences Delhi
Amity University
Amrita Vishwa Vidyapeetham
Anna University
APJ Abdul Kalam Technological University
Ashoka University
Banaras Hindu University
Birla Institute of Technology and Science
Chandigarh University
Chhatrapati Shahu Ji Maharaj University
Chitkara University, Punjab
Christ University
Cochin University of Science and Technology
Delhi Technological University
Dr. A.P.J. Abdul Kalam Technical University
Gandhi Institute of Technology and Management
Gujarat Technological University
Gujarat University
Guru Gobind Singh Indraprastha University
Himachal Pradesh University
Indian Institute of Information Technology, Hyderabad
Indian Institute of Science
Indian Institute of Science Education and Research
Indian Institute of Technology
Indian Statistical Institute
Indira Gandhi Institute of Development Research
Indira Gandhi National Open University (IGNOU)
International Institute of Information Technology, Hyderabad
Jadavpur University
Jamia Millia Islamia
Jawaharlal Nehru University
Kurukshetra University
Lovely Professional University
Mahatma Gandhi University
Manipal Academy of Higher Education
National Institute of Design
National Institute of Technology
National Law School of India University
Narsee Monjee Institute of Management and Higher Studies
Osmania University
Panjab University
Ranchi University
SASTRA University
Savitribai Phule Pune University
SRM Institute of Science and Technology
Tata Institute of Fundamental Research
Tata Institute of Social Sciences
TERI School of Advanced Studies
Thapar Institute of Engineering and Technology
The Maharaja Sayajirao University of Baroda
University of Allahabad
University of Calcutta
University of Calicut
University of Delhi
University of Hyderabad
University of Kerala
University of Kota
University of Lucknow
University of Madras
University of Mumbai
University of Petroleum and Energy Studies
University of Rajasthan
Vellore Institute of Technology
Visvesvaraya Technological University
Choosing a WES-approved university isn't just ticking a box; it's aligning your education with future goals, ensuring a fruitful journey in Canada.
What if My University is Not Mentioned in the List?
In pursuing higher education or migration, finding WES doesn't recognize your university can be quite disheartening. However, it's essential to remember that this is not the end of the road. There are several alternative paths you can take to achieve your goals. Let's explore some of the options you might consider.
Exploring Other Evaluation Agencies
WES is not the only organization that evaluates educational credentials. There are other reputed agencies that might recognize your university. It's a good idea to research and reach out to other organizations to see if they can assist you. Some of these agencies are:
International Credential Assessment Service of Canada (ICAS)
Comparative Education Service (CES)
International Qualifications Assessment Service (IQAS)
Medical Council of Canada (for medical professionals)
Further Studies or Certifications
If you find that your university is not recognized by any credential evaluation agencies, you might consider further studies or certifications from a recognized institution. This could potentially enhance your profile and open up new opportunities for you.
Seeking Professional Advice
In some cases, seeking professional advice might be a mindful step. Legal experts like Visas Centric can guide you on the best course of action, easing navigation through complex situations.
Discovering that WES does not recognize your university can initially be a setback, but it doesn't have to be a roadblock in your journey. By exploring alternative agencies, considering further studies, seeking legal advice, and engaging with communities, you can find a way forward. Remember, every problem has a solution, and with perseverance, you will find yours.
WES Evaluation Process
Evaluating your educational documents through World Education Services can be both exciting and slightly nerve-wracking, particularly for first-timers. But worry not; we are here to guide you step by step, ensuring a smooth, hassle-free process. Let's navigate the stages together. Let's walk through the various stages together.
Creating a WES Account
Before anything else, your first step is to create an account with WES. This is your personal space where you can manage all aspects of the evaluation process. Here's how you go about it:
Visit the Official Website: Head over to the WES official website.
Sign Up: Click on the 'Sign Up' option and fill in the necessary details, such as your name and email address, and create a password.
Profile Completion: Complete your profile by adding personal information and details about your educational background.
Applying for Evaluation
Once your account is set up, the next step is to apply for an evaluation. This is where you officially start your journey with WES. Follow these steps:
Choose the Type of Evaluation: Depending on your purpose (immigration or education), choose the appropriate type of evaluation.
Enter Educational Details: Provide detailed information about your educational background, including the institutions you attended and the credentials you earned.
Payment: Pay the evaluation fee, which varies depending on the type of evaluation you choose.
Document Submission
Submitting the correct documents is a vital part of the process. Here's how you can do it right:
List of Required Documents: Check the list of required documents on the WES website, which can vary depending on your country of education.
Language Requirements: Ensure that your documents meet the language requirements. If necessary, you might need to provide translated versions of your documents.
Sending the Documents: Send the documents either electronically (if the option is available) or by postal mail.
Receiving the Evaluation Report
After successfully submitting your documents, the final step is to receive your evaluation report. Here's what to expect:
Evaluation Time: The evaluation generally takes a few weeks, but it can vary depending on various factors.
Report Issuance: Once the evaluation is complete, WES will issue the report, which will be available in your WES account.
Using the Report: You can use this report for immigration or educational purposes, as per your initial application.
The WES evaluation process is designed to be user-friendly and straightforward. Remember, careful preparation and following the guidelines closely will make your journey with WES a smooth one. As we wrap up, it's vital to emphasize once more the transformative role WES plays in many lives. By recognizing educational credentials globally, WES serves as a support pillar, unlocking vast educational and immigration opportunities. It's not only about credential evaluations; it's about nurturing dreams, bridging gaps, and enabling a future full of possibilities.
How long does the WES evaluation process typically take?
The WES evaluation process is generally streamlined and efficient. Once WES receives all the necessary documents, the evaluation typically takes about 7 to 20 business days. However, it's important to note that the duration might vary based on the complexity of the evaluation and the volume of applications at a given time.
What can I do with the WES evaluation report once I receive it?
Once you have your WES evaluation report in hand, you can use it for a lot of purposes like:
Study Purpose: Use the report to apply to universities and colleges in your destination country, showcasing your recognized credentials.
Apply for Canada PR: The report can be a vital component in your immigration application, helping you claim education-related points, which can be a significant boost in the immigration process.
Can you recommend some other organizations besides WES that provide credential evaluations for immigration to Canada?
While WES is a popular choice, it's good to know that there are other reliable organizations at your service. Here are a few organizations, apart from WES, that are recognized for providing credential evaluations in Canada:
ICAS (International Credential Assessment Service of Canada): A renowned organization offering comprehensive reports that are widely accepted in Canada.

IQAS (International Qualifications Assessment Service): Another reputable service that assesses international educational credentials and compares them to Canadian standards.

ICES (International Credential Evaluation Service): Based in British Columbia, ICES offers detailed evaluation reports, helping you smoothly transition to life in Canada.