Do you want to Study in USA but don't know how to proceed ahead?
Leave all your worries to us and apply for the 2023 intake!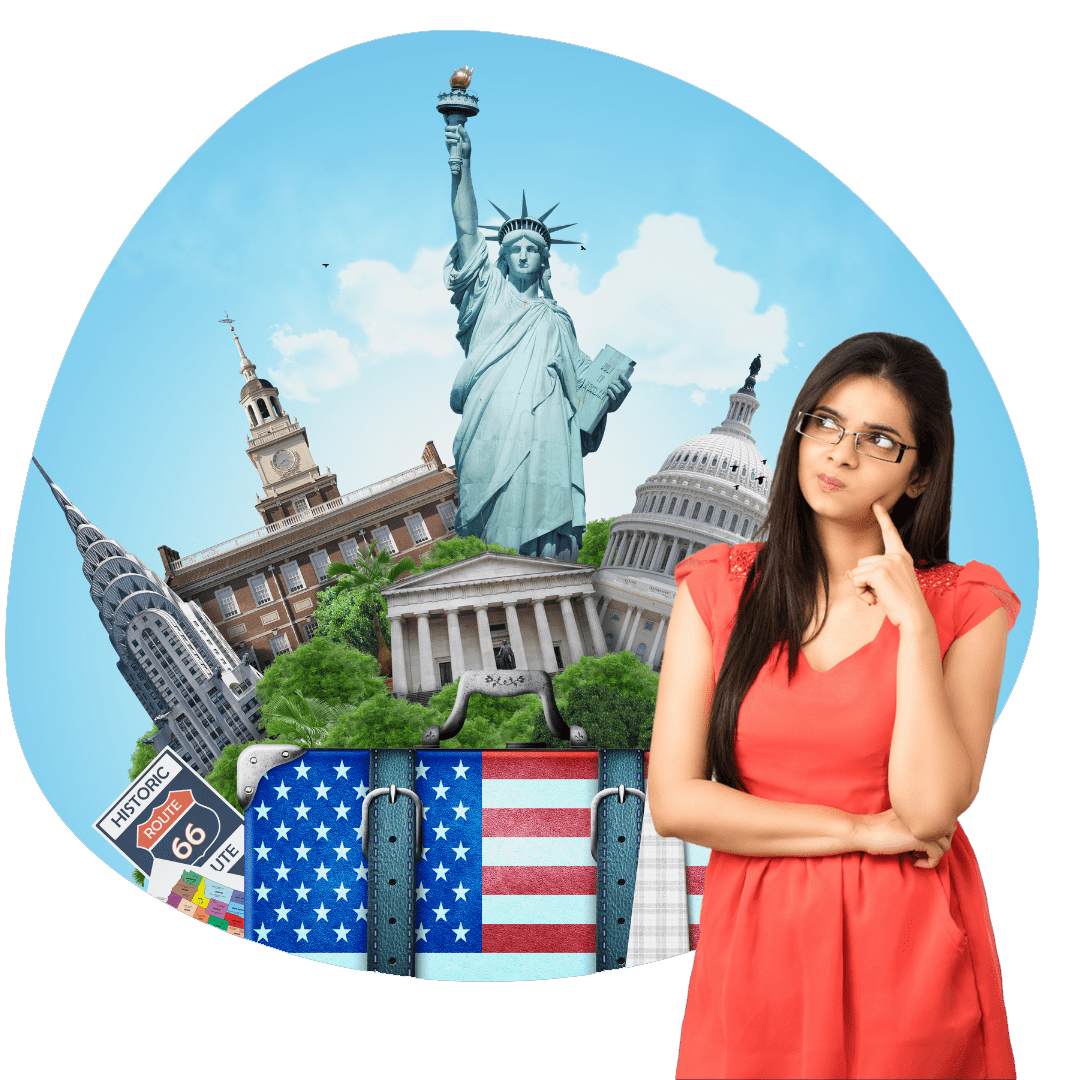 Do you want to Study in USA but don't know how to proceed ahead?
Leave all your worries to us and apply for the 2023 intake!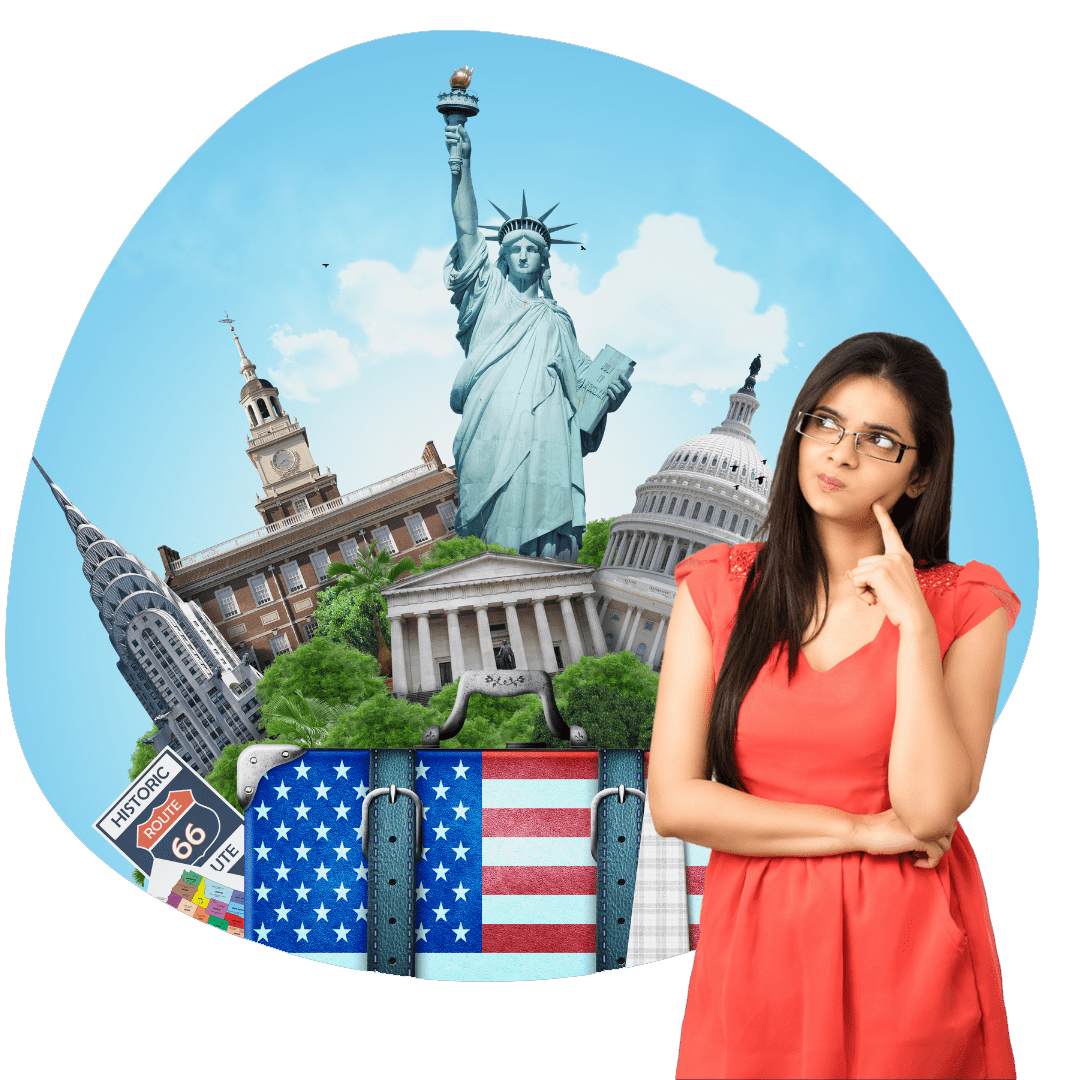 Studying in the United States of America (USA) is a dream for many Indian students. Additionally, with its world-class education system, diverse cultural environment, and vast opportunities, the USA offers an excellent platform for academic and personal growth. Furthermore, from the application process to scholarships and cultural adjustments, we will cover everything you need to know to make your journey of studying in the USA a success.
Why Choose to Study in USA?
Higher education in America is highly sought after by students worldwide, making it a popular destination. There are several compelling reasons why international students choose the USA for their academic pursuits. Let's explore the key reasons to choose the USA for higher education:
Academic Excellence: The USA is renowned for its world-class universities and academic institutions. Many American universities consistently rank among the top in global university rankings. The country strongly emphasizes research, innovation, and academics, offering students access to cutting-edge facilities, renowned professors, and diverse academic programs.
Career Opportunities: The USA has a dynamic and thriving job market, offering abundant career opportunities for international students. Employers worldwide highly appreciate American degrees, and the skills and knowledge acquired when you study in USA can greatly improve your chances of finding a good job. Furthermore, The country's entrepreneurial spirit and innovation-driven economy provide a conducive environment for launching your career or exploring entrepreneurship.
Scholarships and Financial Aid: There can be a significant financial commitment when you plan to study in USA, but there are ample scholarships, grants, and financial aid opportunities specifically designed for international students. Many universities offer merit-based scholarships and need-based assistance to support students in their educational journey.
Quality of Life: The USA offers a superior standard of living characterized by modern infrastructure, diverse recreational activities, and a lively social environment. The country's multitude of different cuisines and varied cultural events provide a rich and enjoyable life for international students.
Academic System in the USA
The education system of the United States is famous all over the world because the way of studying here is unique. Besides, there is an emphasis on diversity, flexibility and critical thinking, innovation, and interdisciplinary learning. This system provides students with numerous learning opportunities and actively encourages them to engage in research, allowing them to grasp current trends and develop a comprehensive set of skills. The following aspects are crucial components of the education system in the United States:
Classroom Experience: In the American educational system, students are motivated to engage actively in their learning, utilize critical thinking abilities, and initiate class discussions. As a result classes often involve lively discussions, group projects, presentations, and hands-on learning activities. Professors play an essential role in guiding students through their learning journey in the American educational system. They don't just teach, but they also encourage independent thinking and spark intellectual curiosity. This encourages students to participate in their education and better understand the subject matter. Plus, employers worldwide value the skills students develop through this approach.
Credit System: The credit system is widely used in American universities. Each course is assigned a number of credits, typically corresponding to the hours spent in the classroom per week. Students need to accumulate a specific number of credits to meet graduation requirements while they study in USA. The credit system also allows students to manage their academic workload and progress at their own pace.
International Student Support: American universities recognize the unique needs of international students and provide dedicated support services. International student offices assist with immigration matters, cultural adaptation, academic integration, and social activities. They offer orientation programs, workshops, and resources to ensure a smooth transition and successful academic experience for international students.
Co-curricular Activities: American universities emphasize all-round development. The campus life here is very exciting and includes clubs, organizations, sports teams, cultural events, and community service opportunities. Through these activities, students get an opportunity to develop leadership skills, get full support of their trends, get a chance to build relationships and feel a sense of belonging.
To succeed in a constantly changing world, students must have the right knowledge, critical thinking abilities, and skills, and the U.S. education system clearly aims to do exactly that. It encourages students to take responsibility for their studies, be creative, and be lifelong learners.
Best Universities in USA
The United States proudly boasts a truly remarkable educational system characterized by internationally acclaimed colleges and universities. Furthermore, it is impressive to witness how these institutions prioritize academic excellence, advanced research, and an extensive range of programs. They are also well-known for trying to provide unique opportunities to students to make them successful. Here is a list of famous universities in the United States with their global rankings and estimated fees (subject to change):
| | | |
| --- | --- | --- |
| University | World Ranking | Tuition Fee |
| Massachusetts Institute of Technology (MIT) | 1st | $53,790 per year |
| Harvard University | 2nd | $54,002 per year |
| Stanford University | 3rd | $56,169 per year |
| California Institute of Technology (Caltech) | 4th | $56,862 per year |
| University of Chicago | 9th | $59,298 per year |
| Princeton University | 12th | $53,890 per year |
| Columbia University | 14th | $63,440 per year |
| Yale University | 17th | $59,950 per year |
| University of Pennsylvania | 19th | $59,950 per year |
| University of California, Berkeley | 22nd | $44,007 (in-state), $56,421 (out-of-state) per year |
The rankings may differ based on the source of information. However, our commitment is to empower you with accurate and impartial information, enabling you to make confident and well-considered decisions. Tuition fees are also based on a particular program, degree level, and residency student. We recommend visiting each university's website to get the latest and most accurate information.
These universities are renowned for their rigorous academic programs, renowned faculty, innovative resources, and vibrant campus life. Moreover, there are numerous subjects available for students to explore, ranging from majors to minors across different universities and colleges. This wide array of options allows students to pursue their academic interests and fulfill their career objectives.
When planning to study in USA for your educational journey, it is crucial to research and consider various factors, including program offerings, faculty expertise, campus culture, location, and financial feasibility. Remember to review admission requirements, scholarships, and financial aid options specific to each institution to make an informed decision.
Studying at these renowned universities can provide you with a unique educational experience, access to extensive facilities, networking opportunities, and a strong foundation for future career prospects. Be sure to use this opportunity to take your time and examine the particular strengths and offerings of each university so that one best matches your educational objectives and personal development.
Best Courses to Study in USA
The United States boasts an outstanding higher education system renowned for its excellence and a broad range of courses in various fields of study. Additionally, whether you seek a bachelor's or master's degree, the USA offers vast opportunities to explore your academic passions and refine valuable skills. We have curated a list of the most sought-after courses in the USA, attracting students from all over the world:
Computer Science and Engineering
For those who possess a deep interest in artificial intelligence, data science, cybersecurity, or software engineering, there are highly specialized programs that cater to your career goals. These courses will equip you with the necessary skills to excel in the ever-changing world of technology and innovation.
Business Administration and Management
Business administration and management courses equip students with essential skills to thrive in the corporate world. Moreover, students learn about finance, marketing, organizational behavior, entrepreneurship, strategic management, and more. Furthermore, these courses provide a solid foundation for aspiring business professionals and future leaders.
Medicine and Healthcare
The healthcare and medical programs available in the United States are undoubtedly of unparalleled quality, providing students with the skills necessary for successful careers in nursing medicine and the allied health professions. These courses provide in-depth mentorship, practical experience, and an opportunity to understand the latest developments in medical research so far.
Social Sciences and Humanities
Social sciences and humanities courses delve into human behavior, societies, cultures, and the world's critical issues today. The knowledge and skills gained from these courses are highly transferable and applicable in today's dynamic and interconnected world.
Engineering
For students who aspire to study in USA to pursue their careers in mechanical, electrical, civil, and aerospace engineering, engineering courses in the USA are essential. These courses establish a firm foundation in scientific principles and technical knowledge, ultimately positioning students for success in their chosen fields.
Environmental Science and Sustainability
With growing concerns about the environment, courses in environmental science and sustainability have gained importance. The demand for professionals in this field is expected to increase as society becomes more concerned about environmental degradation and the necessity for sustainable practices. By providing a diverse array of career paths and chances to contribute to the betterment of the environment and society, Environmental Science and Sustainability programs offer students numerous opportunities.
Fine Arts and Performing Arts
The USA is home to vibrant fine arts and performing arts courses that nurture creativity and artistic expression. This opportunity is invaluable for showcasing creativity, enhancing artistic abilities, and making a substantial contribution to society's cultural fabric.
Journalism and Mass Communication
Journalism and mass communication courses provide students with the skills needed to navigate the dynamic media landscape. Students can learn about reporting, writing, editing, multimedia production, public relations, and media ethics, preparing them for journalism, broadcasting, advertising, and public relations careers.
Science and Technology
The scope of Science and Technology in the USA extends beyond research and development. Furthermore, it encompasses various career paths and opportunities. Moreover, scientific research, technological innovation, and entrepreneurship are highly prioritized in this country, leading to a dynamic ecosystem for startups, technology hubs, and collaborations between academic institutions and industries.
Education
Education courses in the USA focus on preparing future educators and administrators for careers in teaching, curriculum development, and educational leadership. These courses emphasize pedagogy, educational psychology, classroom management, and the latest trends in education.
The country provides access to high-quality education, a multicultural environment, career opportunities, and personal development. As you consider your educational journey, research universities and programs that align with your interests and career goals.
Admission Process
Securing admission to a U.S. university requires careful planning and preparation. Here are some key steps involved in the admission process:
Research and Shortlisting: Explore universities and their admission requirements. Consider factors such as program suitability, location, and financial feasibility.
Application Submission: Complete the university application forms, providing accurate and relevant information. Pay attention to deadlines.
Essays and Statement of Purpose: Write compelling essays that highlight your academic achievements, aspirations, and reasons for choosing the specific university.
Letters of Recommendation: Obtain strong letters of recommendation from teachers, professors, or employers who can vouch for your capabilities and potential.
Transcripts and Academic Records: Gather and submit your academic transcripts, ensuring they meet the university's minimum eligibility criteria.
Standardized Tests and Minimum Requirements
Language tests play a significant role in the university admissions process in the USA. Additionally, the evaluations conducted on students serve a crucial purpose in assessing their academic abilities. Below are the details of the tests with their minimum requirements:
IELTS: The IELTS evaluates English language proficiency across four sections: reading, writing, listening, and speaking. The IELTS score ranges from 1 to 9. Typically, Undergraduate programs need an average score of 6.0 to 7.0, while graduate programs average 6.5 to 7.5.
TOEFL: The TOEFL measures the English language proficiency of non-native English speakers. It assesses reading, listening, speaking, and writing skills. The TOEFL score ranges from 0 to 120. Universities generally require a minimum score of around 75 to 100 for undergraduate and 85 to 100 for graduate programs.
SAT (Scholastic Assessment Test): The SAT consists of different sections that evaluate a student's skills in critical reading, writing, and mathematics. It serves as a crucial test of aptitude for studen. It also consists of two sections: Evidence-Based Reading and Writing (EBRW) and Math. The total SAT score ranges from 400 to 1600. While score requirements vary across universities and programs, a minimum total score of around 900 to 1200 is typically expected.
GRE (Graduate Record Examination): The GRE assesses verbal reasoning, quantitative reasoning, critical thinking, and analytical writing skills. The Verbal Reasoning and Quantitative Reasoning sections are scored on a scale of 130 to 170, while the Analytical Writing section is scored on a scale of 0 to 6. Minimum score requirements for the GRE vary significantly depending on the university and program of study.
GMAT (Graduate Management Admission Test): The GMAT is specifically designed for graduate business programs, such as MBA programs. It evaluates analytical writing, integrated reasoning, quantitative reasoning, and verbal reasoning skills. The GMAT score ranges from 200 to 800. Minimum score requirements for the GMAT vary among business schools.
MCAT (Medical College Admission Test): The MCAT is required for admission to medical schools in the USA. It assesses knowledge of the natural, behavioral, and social sciences and critical thinking and problem-solving skills. The MCAT score ranges from 472 to 528. Minimum score requirements for medical schools vary, and some institutions may have specific score thresholds for each section of the exam.
Preparing for these tests involves dedicated study and practice. Moreover, it is recommended to utilize official study materials, take practice tests, and consider test preparation courses to familiarize yourself with the test format, improve your skills, and maximize your scores.
Furthermore, remember to check the specific score requirements of each university and program you are interested in, as minimum score expectations vary from university to university.
Visa Process and Documentation for Studying in USA
The visa process and documentation are crucial steps for international students planning to study in USA. Understanding the requirements and procedures is essential to ensure a smooth transition. The process generally involves the following:
Visa Types: If you plan to study in USA as an international student, you will typically require an F-1 visa for academic studies or a J-1 visa for exchange programs. The F-1 visa is widely used by students who are enrolled in full-time academic programs.
Form I-20: Once you are accepted into a Student and Exchange Visitor Program (SEVP)-certified institution, you will receive a Form I-20 from the university's Designated School Official (DSO). Having this document is crucial for your visa application as it confirms your acceptance and authorization to pursue your studies in the United States.
SEVIS Fee: Before applying for a study visa, you must pay the SEVIS (Student and Exchange Visitor Information System) fee. This fee supports the maintenance of the SEVIS program, which tracks and monitors international students. You can pay the fee online and keep the receipt as proof of payment.
DS-160 Form The DS-160 is an online non-immigrant visa application form for students who want to study in USA and must be completed accurately and truthfully. This form collects personal information, educational background, and details about your intended stay in the USA. Be prepared to upload a passport-sized photograph as part of the application.
Visa Application Fee: To move forward with your visa application, kindly ensure that the non-immigrant visa application fee is paid. The fee amount may vary, so check the U.S. embassy or consulate website in your country for the specific fee and payment instructions.
Visa Interview: In order to obtain a U.S. study visa, it is necessary to schedule a visa interview at the U.S. embassy or consulate located in your country of residence. Prepare all the required documentation and arrive at the interview location on time. During the interview, the consular officer will inquire about why you want to study in USA, your educational plans, financial support, connections to your home country, and your intentions to return after finishing your studies.
Documentation
Gather the following documents to bring to your visa interview:
Valid passport: Your passport should be valid for at least six months beyond your intended period of stay in the USA.
Form I-20: Provide the original Form I-20 issued by your university.
SEVIS Fee receipt: Carry the receipt as proof of payment.
DS-160 confirmation page: Print the confirmation page after completing the DS-160 form online.
Visa application fee payment receipt: Carry the receipt as proof of payment.
Financial documents: Prepare documents that demonstrate your ability to cover the cost of tuition, living expenses, and other educational expenses. This may also include bank statements, scholarship letters, or sponsorship letters.
Educational documents: Bring your academic transcripts, diplomas, degrees, and standardized test scores (if applicable).
English proficiency proof: Provide your TOEFL or IELTS score report to demonstrate your English language proficiency.
Additional Documentation: Depending on your specific circumstances, additional documentation may be required, such as a resume/CV, letters of recommendation, or proof of ties to your home country.
Visa Approval and Travel: If your visa application is approved, the consular officer will provide you with the necessary instructions. Once you receive your passport with the visa, review it to ensure accuracy. Make travel arrangements, including booking flights and arranging accommodations, and prepare for your exciting journey to the USA.
Know the visa requirements and procedures from the American Embassy or Consulate in your country for a smooth application process. It is also recommended that you carefully review the information provided to ensure a smooth and successful application process. It is crucial to start the visa application process well in advance to allow sufficient time for document gathering, appointment scheduling, and potential processing delays.
Accommodation Options
When planning to study in USA, finding suitable accommodation is a crucial aspect of your preparation. Fortunately, there are various accommodation options available to international students. Here are some popular choices to consider:
On-Campus Housing: Many universities offer on-campus housing options, such as dormitories or student residences. Living on campus provides convenience, proximity to campus facilities, and opportunities to connect with fellow students. On-campus housing also often includes meal plans and access to support services.
Off-Campus Apartments: Renting an apartment off-campus is a common choice for students who prefer more independence and privacy. Off-campus apartments offer a range of options, from studio apartments to shared apartments with roommates. It also allows you to experience living in the local community and provides flexibility in terms of location and amenities.
Homestays: Homestays involve living with a host family in their home. This option offers a unique cultural experience and the opportunity to improve language skills. Host families provide meals and a supportive environment. Homestays are particularly beneficial for international students who want a structured living arrangement and additional support.
Student Co-ops and Shared Housing: Student cooperatives (co-ops) or shared housing arrangements involve living with other students in a communal setting. Co-ops often have shared responsibilities for chores and expenses, creating a sense of community and affordability.
When searching for accommodation, consider factors such as location, safety, proximity to campus, amenities, rental costs, and lease terms. It is advisable to start your search early and explore resources provided by your university, such as housing websites, student forums, or housing offices, to find reliable and suitable options.
Cost of Living in the USA for International Students
For international students planning to study in USA, understanding the cost of living is essential for effectively managing their finances. The living costs vary depending on where you live, your style of life, and your personal preferences. It's important to be well informed to make wise financial decisions during your academic journey. Here are some key factors to consider when estimating the cost of living in the USA:
Housing: In different states and localities, the cost of housing might vary considerably. As a student, you can choose from different places to live on campus. There are different options you can choose from, like dorms or residences. The monthly rates usually range from $500 to $1,500, depending on where you go. An option to consider is living off-campus in apartments or shared spaces. The cost may fluctuate from $700 to $2,000, or potentially more, depending totally upon the locality and amenities accessible.
Food: The amount you will be spending on food will depend on your personal eating preferences. Although cooking meals at home can help you save money, purchasing groceries can still amount to around $200 to $300 per month. Eating out or dining on campus may range from $8 to $15 per meal.
Transportation: The cost of transportation can differ based on the location and mode of travel. Public transportation options like buses or trains generally range from around $50 to $100 per month. If you plan to buy a car while pursuing your studies in the USA, you'll have to consider some additional expenses like insurance, fuel, and parking fees.
Health Insurance: Health insurance is a mandatory requirement for international students in the USA. The yearly expense for health insurance may vary between $500 to $1,500, depending on the extent of health coverage and the insurance plan offered by the university while you complete your study in USA.
Books and Supplies: Textbooks and study materials can add to your expenses. Students usually spend roughly around $500 to $1,000 per year on books and supplies. You can also consider renting or purchasing used books in order to save money.
Personal Expenses: Personal expenses, including clothing, entertainment, and personal care products, may vary depending on individual preferences. Budgeting around $200 to $300 per month for personal expenses is a reasonable estimate.
To effectively manage your finances, create a budget, track your expenses, and explore potential opportunities for scholarships, part-time jobs, or assistantships offered by the university. Utilise student discounts and consider also cost-saving measures such as sharing expenses with roommates or preparing meals at home.
Career Opportunities for International Students in the USA
As an international student, studying in the USA can not only offer you numerous career opportunities as one of its significant benefits but also USA is home to a thriving economy and diverse industries, offering a lot of possibilities for career growth and development. As an international student pursuing education in the United States, you can explore numerous career options, including:
Optional Practical Training (OPT): Optional Practical Training is a program that allows international students to work in the USA for up to 12 months when they complete their studies in USA. OPT provides a valuable opportunity to apply the knowledge and skills gained during your studies in a professional setting, gain work experience, and explore career paths.
Internship Programs: Many universities and colleges in the USA have strong connections with local businesses and industries. They often provide internship programs that allow international students to gain practical work experience while studying. Participating in internships can help you improve your skills and offer excellent networking opportunities. Moreover, internships can serve as a pathway to secure full-time employment.
Job Market: The USA has a robust job market that welcomes skilled professionals from various fields. Metropolitan areas and urban cities are recognized for the lively job markets they offer, showcasing a wide range of employment opportunities across various industries such as technology, finance, healthcare, engineering, research, and more.
Global Companies: Many multinational companies have their headquarters or regional offices in the USA. These companies often seek diverse talent and offer international students the chance to work in a global and multicultural environment.
It is important to research the specific requirements and visa regulations related to employment opportunities as an international student. Familiarise yourself with work visa options, such as the H-1B visa, and seek guidance from career advisors and immigration experts.
Pursuing an education in the USA requires thorough preparation and understanding of various aspects, including the academic system, admission process, standardized tests, visa requirements, and cost of living. By familiarising yourself with these elements and seeking guidance from experts like Visas Centric, you can navigate the process with confidence and ensure a smooth transition to your new career growth. If you are committed to studying in the USA and making your dreams a reality, then you can contact us today, and we will take care of the whole process for you.
Can I work in the USA after completing my studies?
Once you finish your studies, you may qualify for Optional Practical Training (OPT), providing you with a temporary work opportunity in the United States. The duration of OPT depends on your degree level and field of study.
What are the language requirements to study in USA?
International students are typically required to demonstrate English language proficiency through tests like TOEFL or IELTS.
Can I transfer credits from my Indian university to a U.S. university?
Some U.S. universities may accept transfer credits from Indian universities. However, the evaluation and acceptance of credits depend on the university's policies and the similarity of the courses.
Are there any scholarships specifically for Indian students who wants to study in USA?
Yes, several scholarships are available for Indian students studying in the USA. Research scholarship opportunities are offered by universities, organizations, and the Indian government to find suitable options.
How can I find accommodation off-campus?
To find off-campus accommodation, you can explore rental listings on websites or connect with real estate agents. Additionally, many universities have resources or recommendations for off-campus housing options.