The Skilled Independent Visa, which is also called Australia Visa Subclass 189, is a way for skilled professionals from all over the world to start a successful career in Australia. Moreover, the Subclass 189 visa is a category of the General Skilled Migration program, a campaign intended to address the skill shortages in different sectors in Australia. Furthermore, this visa gives you the independence to stay in any part of Australia without any restrictions. It works on a point-based framework, where candidates are assessed by age, language capability, and work experience. Let's understand this category of visa in more detail.
Benefits of Obtaining an Australia Visa Subclass 189
Getting a Skilled Independent Subclass 189 visa is a fantastic opportunity. It offers many benefits that can make your life better, setting a strong foundation for a bright future in Australia.
Eligibility Requirements for Australia Visa Subclass 189
To successfully apply for an Australia Visa Subclass 189, you first need to evaluate that you are eligible to apply for the visa:
Point Structure for Subclass 189 Visa
Firstly, you need a very keen understanding of the point structure of subclass 189 skilled independent visa to apply for this visa. This system constitutes an important part of your application and evaluates various aspects of your profile, including your age, English proficiency, educational background, and work experience. Now, we will understand in detail how the points are allocated:
Point Allocation Based on Age
| Age Group | Points Allocated |
| --- | --- |
| 18-25 years | 25 |
| 25-33 years | 30 |
| 33-40 years | 25 |
| 40-45 years | 15 |
Point Allocation Based on English Proficiency
| English Proficiency Level | Points Allocated |
| --- | --- |
| Competent | 0 |
| Proficient | 10 |
| Superior | 20 |
Point Allocation Based on Educational Qualification
| Educational Qualification | Points Allocated |
| --- | --- |
| Doctorate | 20 |
| Bachelor's or Master's Degree | 15 |
| Diploma | 10 |
| Qualification for Skilled Occupation | 5 |
Point Allocation Based on Work Experience
| Work Experience (Years) | Points Allocated (Overseas) | Points Allocated (In Australia) |
| --- | --- | --- |
| Less than 3 | 0 | 5 |
| 3 to 4 | 5 | 10 |
| 5 to 7 | 10 | 15 |
| 8 and above | 15 | 20 |
Additional Points for Partner Skills
| Criteria | Points Allocated |
| --- | --- |
| Partner age below 45 years | 5 |
| Partner has competent English skills | 5 |
| Partner's skills assessed as relevant to the nominated occupation | 5 |
| Partner immigrating with you | 5 |
| Partner not a citizen or PR visa holder in Australia | 5 |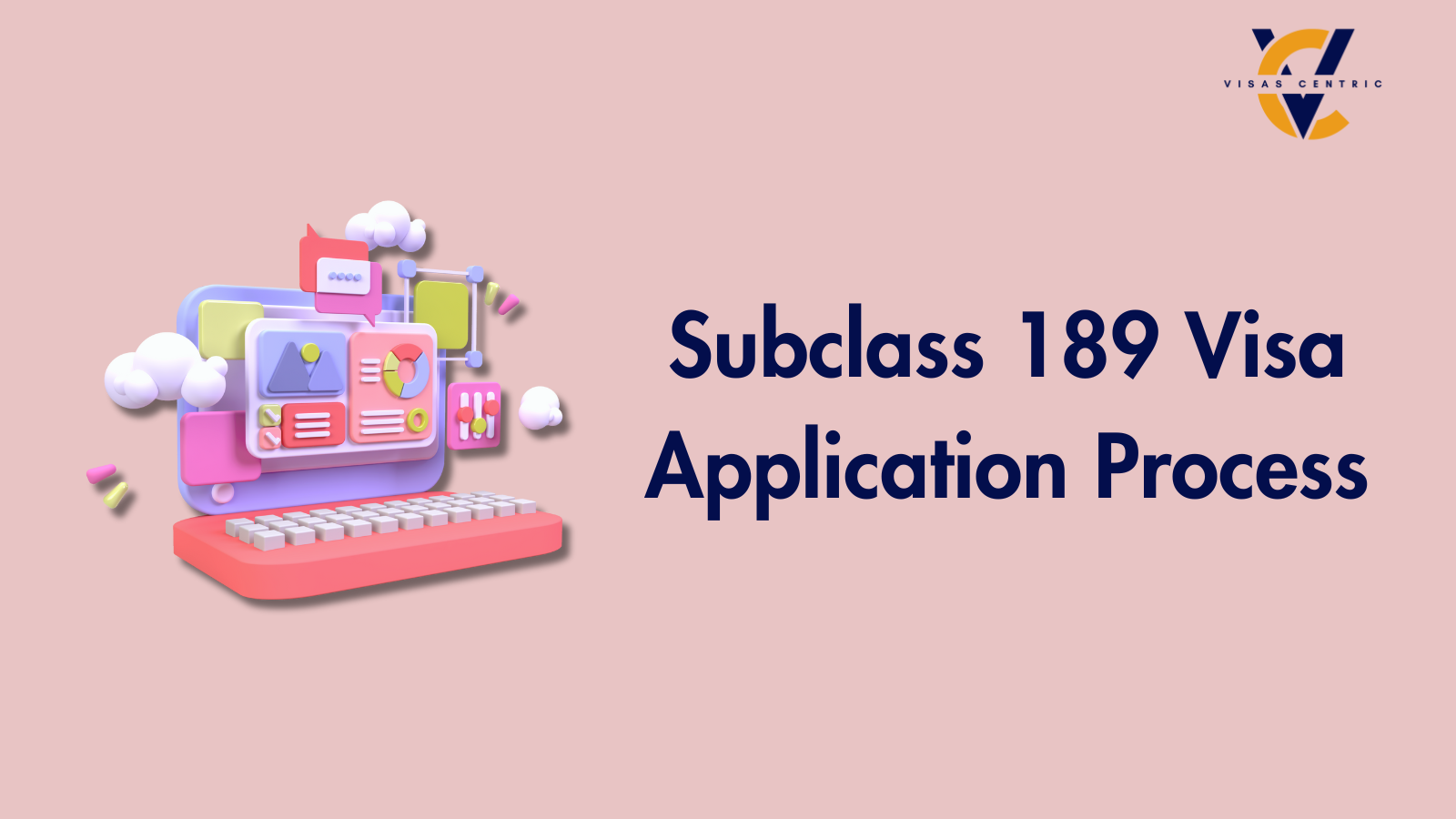 Subclass 189 Visa Application Process
When we think about immigration to Australia, a lot of thoughts come to our mind. We think of it as a complicated and tedious task. However, while most of it is somewhat true, below, we try our best to simplify this complicated process for you.
Step 1: Creating an ImmiAccount
The very first step is to create an ImmiAccount. This is an online portal of the Australian Immigration Services. It's a pretty user-friendly portal where you can file your visa application, upload necessary documents, and track the status of your application. Additionally, make sure that your details in this portal are always up to date for faster processing time.
Step 2: Submitting an Expression of Interest (EOI)
Now it is time for you to submit the Expression of Interest (EOI). However, this is not a visa application. This is a way to tell the government that you are interested in moving to Australia. In this, you need to provide details about your skills, qualifications, work experience, etc. 
Step 3: Invitation to Apply
After the EOI is submitted, the waiting begins. Your profile will be visible to Australian states and territories and potential employers who might be interested in the skills you possess. If your profile is a great fit, then you'll soon be receiving an Invitation to Apply (ITA). Subsequently, once you are invited to apply for the visa, the journey will be much simpler from here.
Step 4: Preparing Supporting Documents
Gathering supporting documents is also very important after receiving the ITA. These documents serve as proof of the claims you have made in your EOI. Make sure all the documents you provide, educational and work-related, are up-to-date and authentic.
Step 5: Filling Your Visa Application Online
Once all the documents are ready, we can now officially file the visa application. For this, we need to log in to the ImmiAccount we created and submit the application. Make sure to include all the details and documents in the application process.
Step 6: Health Examinations and Police Checks
Now, you need to go through all the mandatory health checks and police clearances. This step ensures that you meet health and character requirements set by the Australian government. Moreover, this step ensures that the Australian community is safe when you join in as a permanent resident.
Step 7: Paying the Application Fees
This is where the financial aspect comes into place. In this step, you will be required to pay the visa fee according to the number of family members accompanying you in Australia.
Step 8: Decision and Grant of Visa
After so many hurdles, you have finally arrived at the moment of truth: the decision on your permanent residency visa. If everything goes well, you will finally be granted the subclass 189 visa. Now, you will be able to live in Australia indefinitely with your family members.
Cost to Apply for the Subclass 189 Visa
The Government of Australia has set a transparent fee structure for the people who want to live and work in Australia. You should know the application fee in order to plan your finances in a better way:
| Applicant | Application Fee (AUD) |
| --- | --- |
| Primary | 4640 |
| Secondary | 2320 |
| Dependent (Below 18) | 1160 |
The Australian government can change the above fee without any notice. While we try our best to give you the latest figures, it's always better to cross-check the
official government website
.
Documents Required for Subclass 189 Visa
Now that you have understood the whole process, we are sure that you know how important a role the documents will play. You need to have all the necessary documents to make sure that the whole process is smooth. Let's get to the details of the list of documents required for this visa:
Personal Documents
This one will be easy for you. The below list is for the personal documents you need as proof of your identity and background:
Educational Documents
Your educational documents play an important role in order to achieve those crucial 65 points. Make sure you have the following:
Skill Assessment Documents
These documents are essential to prove your expertise in your occupation for a PR visa. These might include:
Proof of English Proficiency
As english is the mother tongue of Australia, you need to show english proficiency in order to live and work in Australia. You should also know how many minimum bands you need in order to migrate to Australia. The documentation for this includes:
Employment References
Professional references are very important for a skilled worker. You would need:
Health and Character Documents
The Australian government would want to verify that you are of good character and keeping well healthwise. To prove this, you would need:
Proof of Funds
Demonstrating your financial stability is a crucial step in the visa application process. You might need to provide:
Other Supporting Documents
In addition to the above, you might need to provide other supporting documents, such as:
Processing Times for Australia Visa Subclass 189
When you know the timeline for any specific task, it becomes easier for you to manage your patience. However, we cannot change the timelines, but we can at least be aware of it. The time to process a subclass 189 visa is as follows:
| | |
| --- | --- |
| Percentage Of Applications | Processing Time |
| 75% of applications | Processed in 7 months |
| 90% of applications | Processed in 9 months |
While it's difficult to pinpoint an exact timeframe, the average processing times for the Subclass 189 Visa tend to range between 6 to 9 months. However, it's crucial to note that this is a general guideline, and individual experiences may vary.
Factors Affecting Processing Times
The processing time for the Subclass 189 Visa is influenced by a lot of factors and can vary greatly. These can include:
Tracking Your Application
You can regularly check your ImmiAccount to keep a tab on the process. Moreover, you can also subscribe for the updates and notifications inside the portal to be notified. This way, you will be updated regularly with the recent developments in your visa process.
Tips for a Smooth Application Process
To facilitate a smooth application process, consider the following tips:
The process of getting an Australia visa subclass 189 requires preparation, patience, and anticipation. However, this opens a lot of opportunities for skilled workers like you in this beautiful continent. Furthermore, remember to keep an eye on the visa requirements, eligibility criteria and fluctuating visa costs. Additionally, consult an experienced immigration consultant who specialises in the Australian PR process, like Visas Centric, to get 100% error-free documentation.
What is the primary purpose of the Subclass 189 Visa?
The Subclass 189 Visa, also known as the Skilled Independent Visa, allows skilled individuals from outside Australia to work and live indefinitely in Australia. You are not required any type of sponsorship by an employer, family member or the state or territory government in this visa. It is a point-tested visa, and applicants must meet specific criteria to be eligible.
How can I track the progress of my visa application?
You can track the status of your visa application through your ImmiAccount. It's a very user-friendly online portal where you can view updates and notifications regarding your application. It's essential to keep your details up-to-date in your ImmiAccount to ensure a smooth process.
What kind of documents will I need to gather for the visa application?
You need to have your personal identification documents, educational certificates, proof of English proficiency, employment references, and health and character documents. Also, make sure that all the documents are authentic and up to date.
How much time does it take for my application to be processed?
Most of the time, it will take approximately 6 to 9 months for your application to be processed. However, this specified timeline can change depending on the backlog of applications or delays in verifying specific documents.