Do you want to Study in Australia but don't know how to proceed ahead?
Leave all your worries to us and apply for the 2023 intake!
Do you want to Study in USA but don't know how to proceed ahead?
Leave all your worries to us and apply for the 2023 intake!
Think of Australia, and you might picture kangaroos, the Sydney Harbour Bridge, or perhaps the vast Outback. Many indian students want to study in Australia because it is where dreams of a world-class education come to life. It's where the classroom extends beyond four walls, and every experience, whether in a bustling city cafe or a quiet library corner, becomes a lesson.
Top-Notch Universities: Studying in Australia isn't just about getting a degree; it's about getting it from institutions that are recognised and respected globally.
A Global Classroom: Imagine learning with peers from every corner of the world. That's everyday life when you study in Australia. That's everyday life in an Australian university.
Safety First: For many parents and students, the friendly and safe environment of Australian cities is a big plus.
Why Study in Australia?
Australia isn't just about the places you visit; it's about the stories you create. For an Indian student, studying in Australia is where familiar comforts meet new adventures. It's where you can enjoy a spicy curry one day and try out snorkelling in the Great Barrier Reef the next.
Multicultural Community
When you study in Australia, you'll find it's where the world comes together. It's where an Indian festival like Diwali gets celebrated with as much enthusiasm as Christmas. This cultural blend ensures that while you're exploring new horizons, there's always a touch of home nearby.
Connections Beyond Borders
Studying in Australia means being at the crossroads of global opportunities. Universities here have ties with institutions worldwide, opening doors to internships, research, and collaborations that span continents.
More Than Just Books
In Australia, growth isn't just about taking exams. It's about discovering who you are and what you can become. So, whether it's leading a university club, volunteering for a cause, or just enjoying a beachside barbecue with friends, every experience shapes you, preparing you for the world beyond university.
Key Facts for Students to Study in Australia
| | |
| --- | --- |
| Fact/Figure | Details |
| Official Language | English |
| Average Undergraduate Tuition Fee (per year) | AUD 20,000 to AUD 45,000 |
| Average Postgraduate Tuition Fee (per year) | AUD 22,000 to AUD 50,000 |
| Primary Funding Sources | Scholarships, grants, part-time employment, sponsorships |
| Common English Proficiency Exams | IELTS, TOEFL, PTE |
| Typical IELTS Requirement | 6 and above |
| Typical TOEFL Requirement | 79 and above |
| Degree Intake Periods | Jan to Jun & July to November |
| Student Visa Type | Subclass 500 |
In a nutshell, Australia presents a compelling package for international students. With English as its official language, it offers a multicultural learning environment. Also, the tuition fees, while substantial, come with opportunities for scholarships and funding. Furthermore, the country's clear requirements for English proficiency and a straightforward visa process further simplify the journey for aspiring students. With varied intake periods and a wide range of academic choices, Australia truly stands out as a top destination for higher education on the global stage.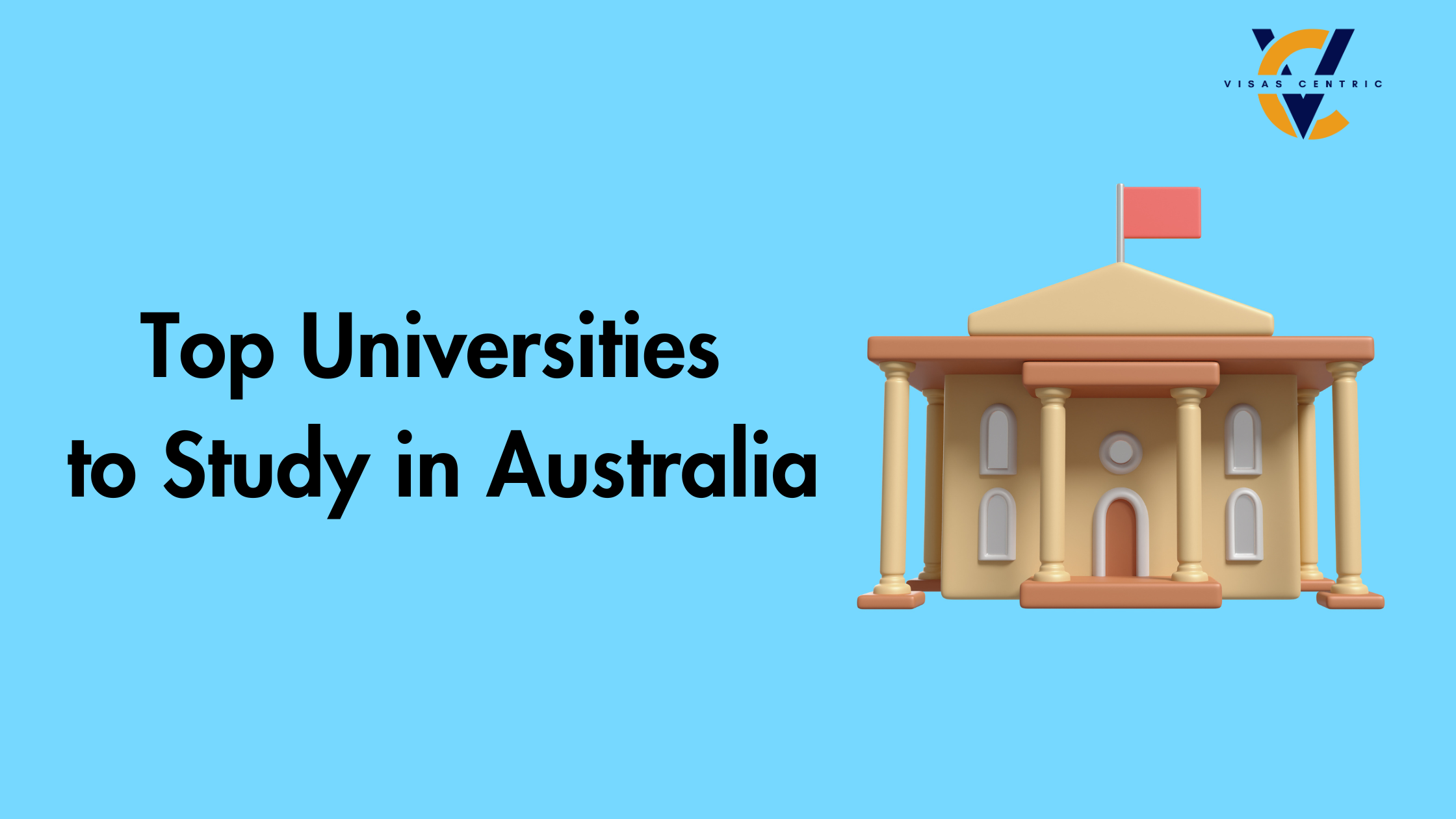 Top Universities to Study in Australia
Australia is home to some of the world's most prestigious universities. Here's a snapshot of some of the top Universities in Australia:
University of Melbourne:

Holding the 14th spot globally, this university shines brightest when it comes to academic and employer reputation. Plus, with a deeply international campus vibe, it's a melting pot of cultures and ideas.

University of New South Wales (UNSW Sydney):

Known for its impressive international research network, UNSW also boasts stellar employment outcomes for its graduates.

University of Sydney:

Established in 1850, it's Australia's first university and a member of the Group of Eight, which represents Australia's leading research-intensive universities.

Australian National University (ANU):

Located in the heart of the nation's capital, Canberra, ANU has campuses spread across different regions.

Monash University:

With campuses in Melbourne, Malaysia, and South Africa, Monash is truly global. It's recognised for its international faculty and research citations.

University of Queensland:

Not just academically sound, UQ has an impressive list of alumni, including Nobel laureates and Oscar winners.

University of Western Australia:

Based in Perth, it's particularly known for its research citations.

University of Adelaide:

Established in 1874, it's one of Australia's oldest universities and is renowned for its international faculty and student ratios.

University of Technology, Sydney:

A relatively young university, UTS stands out for its research citations and industry partnerships.

Macquarie University:

Located in Sydney, it's particularly known for business, engineering, health, and life sciences.
Benefits of Studying in Australia for Indian Students
For Indian students, choosing to study in Australia is a significant decision, often accompanied by a mix of excitement and apprehension. But what makes it so special for students from the Indian subcontinent? Let's understand the benefits of studying in Australia, specifically tailored for Indian students.
Variety of Courses
Australia isn't just about kangaroos and the Opera House. Moreover, It's a land where education meets passion and dreams find direction. One of the standout features of Australian universities is the sheer variety of courses on offer. Whether you're an aspiring filmmaker, a budding environmental scientist, or a future tech expert, there's a course tailored just for you.
And the best part? The freedom to choose.
Unlike many traditional education systems where the path is often linear, Australia encourages exploration. You can mix and match subjects, explore interdisciplinary studies, or even change your major if you discover a new passion. It's all about finding what lights your fire and pursuing it with zeal.
Part-Time Work Opportunities
Australia, renowned for its stellar universities, also opens doors to real-world experiences for its students. Imagine attending lectures by day and exploring the local job scene by evening. For countless international students, this isn't just a dream but a reality. Also, part-time jobs not only help with the bills but also offer a deep dive into Australia's vibrant work culture, enriching their skill set.
But before you roll up your sleeves and jump into job hunting, here's what you need to know:
Work Limit:

Starting from July 1, 2023, the Australian Government has updated the work limit for international students. Now, you can work up to 48 hours every two weeks during your study term. And when it's vacation time? Feel free to work as much as you want, even full-time.

Work Rights:

Typically, your student visa comes with the privilege to work. But a quick word of advice: always revisit your visa specifics. It's essential to be sure of your rights and stay on the right side of the rules.
The Global Classroom
If you've ever dreamt of studying in a place where every day is a global adventure, Australia is where you should be. Over the past few years, there's been a significant uptick in the number of international students choosing Australia as their study destination. And it's not hard to see why.
Imagine sharing a classroom with someone from Brazil, working on a group project with a mate from South Africa, and grabbing lunch with a friend from Japan. That's a regular day in an Australian university. This diverse mix ensures that you're not just learning from textbooks but from the rich tapestry of cultures, perspectives, and experiences that each student brings to the table.
Holistic Growth
But studying in Australia isn't just about attending lectures and taking exams. It's about growing as a person. Universities here place a strong emphasis on holistic development. So, whether it's joining a debate club, playing for the university cricket team, or volunteering at a local NGO, there are countless opportunities to hone your skills, discover new talents, and make memories that last a lifetime.
Increasing Indian Student Enrollments
The word is out, and the world is taking notice. The surge in international student enrollments in Australia is a testament to the country's stellar academic reputation, welcoming environment, and the promise of a bright future. For Indian students, as you can see in the above chart, this trend is even more pronounced. During COVID in 2021, the growth dropped a bit, but it is back on track now. Drawn by the charm of top-tier universities, post-study work opportunities, and the chance to experience a diverse culture, more and more Indian students are calling Australia their second home.
The Great Indian Student Community
Being away from home can be challenging. But in Australia, you're never really alone. With a thriving Indian student community across universities, there's always a piece of home not too far away. From celebrating Diwali and Holi to sharing a plate of biryani or dosa, the bonds you form here will be ones you cherish forever.
Popular Courses and Tuition Fees to Study in Australia
Australia's educational landscape is vast and varied, offering tons of courses that cater to every passion and profession. For Indian students, this means the freedom to pursue their dreams, be it in the busy world of business or the complex concepts of engineering.
Top Categories
Australia's strength lies in its diversity, and this is reflected in its academic offerings. Beyond the traditional courses, students can explore niche areas, interdisciplinary studies, and unique programs that cater to the evolving demands of the global job market.
Business
Explore the dynamic world of business in Australia. Whether you're dreaming of the boardroom, the stock market, or launching your own startup, Australia's got you covered. From comprehensive MBAs to specialised finance degrees, you're not just learning; you're preparing to lead.
Engineering
Australia's engineering courses are where creativity meets capability. Dreaming of designing skyscrapers, developing software, or pioneering sustainable solutions? With cutting-edge labs and real-world projects, you're not just studying engineering; you're living it.
Medical
Australia's medical courses are where compassion meets excellence. Whether you see yourself in a bustling city hospital, a research lab, or a rural clinic, the blend of theory and hands-on practice ensures you're not just qualified but also ready to make a difference.
Education
If shaping young minds and building the future sounds like your calling, Australia's education courses are where you start. From nurturing toddlers to guiding university students, you're equipped to inspire, challenge, and lead the next generation.
Hospitality
Australia's hospitality industry is vibrant, diverse, and ever-evolving. Whether you're whipping up culinary masterpieces, managing luxury resorts, or orchestrating unforgettable events, the blend of classroom learning and real-world training ensures you're ready to dazzle.
Tuition Fees and Popular Courses
Business:

An MBA can cost anywhere between AUD 45,000 and AUD 80,000 per year. Popular courses include Master of Business Administration (MBA), Bachelor of Commerce, and Master of Finance.

Engineering:

Annual fees for engineering courses can range from AUD 30,000 to AUD 45,000. Popular picks include Bachelor of Civil Engineering, Master of Information Technology, and Bachelor of Mechanical Engineering.

Medical:

Medical degrees are among the pricier options, with fees ranging from AUD 55,000 to AUD 75,000 per year. Courses in demand include Bachelor of Medicine, Bachelor of Surgery (MBBS), and Bachelor of Nursing.

Education:

A degree in education can cost between AUD 20,000 to AUD 35,000 annually. Popular courses include Bachelor of Education (Primary) and Master of Teaching.

Hospitality:

For hospitality courses, students might look at an annual fee of AUD 20,000 to AUD 40,000. Hot picks include a Bachelor of Culinary Management, a Diploma in Hotel Management, and a Bachelor of Event Management.
Requirements for Studying in Australia
Every dream has a starting point, and to study in Australia, it begins with understanding the admission requirements. These can vary based on the level of education you're aiming for, but there are some common threads that weave through them all.
Undergraduate Programs
For those fresh out of school and looking to dive into a bachelor's degree, Australian universities typically look at:
Academic Performance: Your 10+2 or equivalent marks play a pivotal role. Each university and course might have its own benchmark, but a strong academic record is always a plus.
English Proficiency: Given that courses are taught in English, universities want to ensure you can keep up. This is where English proficiency tests like IELTS, TOEFL, or PTE come into play.
Postgraduate Programs
For the students eyeing a master's or doctoral degree:
Academic Credentials: Your undergraduate marks or GPA will be under the spotlight. Some courses might also require relevant work experience or a portfolio, especially for fields like arts or design.
English Proficiency: Just like with undergraduate programs, you'll need to showcase your command of English through tests like IELTS, TOEFL, or PTE.
Language Proficiency
While your past academic performance is crucial, there are some specific exams that act as gateways to Australian universities. It is also important for you to understand the minimum score you need in specific english tests in order to get admission to your desired university or college:
IELTS: The International English Language Testing System is widely accepted and tests your reading, writing, listening, and speaking skills.
TOEFL: The Test of English as a Foreign Language is another popular choice, especially for those comfortable with computer-based testing.
PTE: The Pearson Test of English Academic is a computer-based test that's gaining traction among students for its fast results.
GMAT/GRE: For certain postgraduate courses, especially in business or research, you might need to take the GMAT (Graduate Management Admission Test) or GRE (Graduate Record Examinations).
Essential Documents for Application
Alright, so you've aced your exams and picked your dream university. What's next? Gathering your documents! Here's a checklist to get you started:
Statement of Purpose (SOP): Think of this as your personal essay, where you talk about why you've chosen a particular course and university and how it aligns with your future goals.
Letters of Recommendation (LOR): These are endorsements from your teachers, professors, or even employers, vouching for your skills and character.
Academic Transcripts: These are official records of your past academic performance, be it from school or college.
Resume or CV: Especially for postgraduate courses or those with work experience requirements, a detailed resume can be a game-changer.
Portfolio: For courses in arts, design, or media, a portfolio showcasing your best work can be a ticket to admission.
Proof of English Proficiency: Your IELTS, TOEFL, or PTE scores, as applicable.
Additional Tests: GMAT or GRE scores, if required, for your chosen course.
Scholarships and Financial Support
Studying in Australia is an investment in your future, and scholarships can be the wind beneath your wings, helping you soar without the weight of financial worries. Australia, with its commitment to international education, offers a plethora of scholarships tailored for Indian students. Here's a glimpse:
Australia Awards Scholarships: Funded by the Australian government, these scholarships are for students from developing countries, including India. They cover everything from tuition fees to living expenses.
Destination Australia Program: Aimed at students heading to regional Australia, this scholarship promotes growth and opportunities outside major cities.
University-specific Scholarships: Almost every Australian university has scholarship programs for international students. For instance, the University of Sydney, Monash University, and the University of Queensland offer scholarships based on academic excellence, community involvement, and leadership potential.
Private and Corporate Scholarships: Various organisations and businesses offer scholarships to foster ties between India and Australia. These often focus on specific fields of study or research.
Eligibility Criteria for Scholarship to Study in Australia
While scholarships sound like a dream come true, it's essential to remember that they come with their own set of requirements. Whether it's a minimum GPA, a specific field of study, or community involvement, each scholarship has its unique criteria. And here's the thing: missing out on even one tiny detail can mean missing out on the scholarship. So, always ensure you read the fine print, double-check requirements, and ensure your application showcases why you're the perfect fit.
How Visas Centric Can Help?
Let's face it: The process of getting a scholarship to study in Australia can be complicated. With countless options, varying criteria, and tight deadlines, where do you even begin? This is where expert guidance can make all the difference.
Visas Centric is more than just a name; it's the destination for students seeking scholarships. With our in-depth knowledge, vast experience, and a finger on the pulse of the latest scholarship opportunities, we can guide you every step of the way. From identifying the right scholarships to crafting compelling applications, with Visas Centric by your side, you're not just applying; you're maximising your chances of success.
So, before you dive into the scholarship pool, consider seeking guidance from the experts. After all, when it comes to your dreams, every advantage counts.
Cost of Studying and Living in Australia
Australia, with its vibrant cities, world-class universities, and diverse culture, is a dream destination for many. But like any dream, it comes with its price tag. Let's break down the essential living costs for an international student:
Accommodation
University Residences:

AUD 250 to AUD 500 per week

Shared Apartments

: AUD 150 to AUD 300 per week

Private Rentals:

AUD 300 to AUD 600 per week
Utilities
Electricity, Gas, and Water:

AUD 150 to AUD 250 per month
Food
Groceries:

AUD 100 to AUD 150 per week

Dining Out:

AUD 15 to AUD 50 per meal
Transport
Public Transport (Bus, Train, Tram):

AUD 30 to AUD 60 per week

Taxis or Rideshares:

AUD 20 to AUD 50 per ride, depending on distance
Miscellaneous
Entertainment, Leisure, and Personal Expenses:

AUD 50 to AUD 150 per week
Hypothetical Scenario to Understand the Cost of Living in Australia
To better understand these costs, let's walk a mile in the shoes of Aarav, a 21-year-old postgraduate student from Mumbai studying in Melbourne.
Aarav shares a cosy apartment near the university with two mates. They split the rent and utilities, so Aarav's share comes to AUD 250 per week. He's a savvy shopper and spends around AUD 120 on groceries every week. He loves cooking, but on Fridays, he treats himself to a meal at a local Indian restaurant, setting him back AUD 30.
He uses public transport to get around, with a monthly pass costing him AUD 150. Occasionally, he uses rideshares, especially when he's out late with friends.
Aarav's also a movie buff and spends AUD 20 every weekend at the cinema. Add in his gym membership, occasional shopping, and other personal expenses, and he spends around AUD 100 on miscellaneous activities every week.
Monthly Overview
Based on Aarav's lifestyle:
Accommodation:

AUD 1,000 (AUD 250 x 4 weeks)

Utilities:

AUD 60 (his share of the monthly utilities)

Food:

AUD 480 (AUD 120 x 4 weeks for groceries + AUD 30 x 4 weeks for dining out)

Transport:

AUD 190 (monthly pass + occasional rideshares)

Miscellaneous:

AUD 400 (entertainment, personal expenses, etc.)
Total: AUD 2,130 per month
This is just a snapshot of Aarav's life. Every student's journey and expenses will be unique and influenced by their choices, priorities, and circumstances. However, by understanding the basic costs and budgeting wisely, you can navigate the financial aspect of studying in Australia with confidence.
Post-Study Work Opportunities in Australia
After the late-night study sessions, the group projects, and the exhilaration of graduation, what comes next? For many international students in Australia, the journey doesn't end with a degree. The country offers a golden opportunity: the chance to gain work experience in the land Down Under through post-study work permits.
As per the latest update from the Australian Government on 1 July 2023, the Post-Study Work Visa (Subclass 485) allows international students to work in Australia for up to 8 years who've completed their studies in Australia to live, work, or study further. It's not just about building a career; it's about immersing oneself in the Australian way of life, understanding its work culture, and forging invaluable global connections.
| | | | | |
| --- | --- | --- | --- | --- |
| Regions | Degree Type | Bachelor | Masters (Both Coursework & Research) | Doctorate (Ph.D.) |
| Major Urban Cities* | Eligible Qualifications | 4 Years | 5 Years | 6 Years |
|   | Other Qualifications | 2 Years | 3 Years | 4 Years |
| Cities & Key Regional Centres* | Eligible Qualifications | 5 Years | 6 Years | 7 Years |
|   | Other Qualifications | 3 Years | 4 Years | 5 Years |
| Other Regional Areas* | Eligible Qualifications | 6 Years | 7 Years | 8 Years |
|   | Other Qualifications | 4 Years | 5 Years | 6 Years |
*Major Cities: Sydney, Melbourne, Brisbane
*Cities and Key Regional Centres: Perth, Adelaide, Gold Coast, Sunshine Coast, Canberra, Newcastle/Lake Macquarie Wollongong/Illawarra, Geelong, Hobart
*Other Regional Areas: All other locations       
Eligibility for PSWP
Before you start dreaming of your Australian workspace, there are a few boxes to tick:
Qualification:

You must have a qualification from an Australian education provider, be it a bachelor's, master's, or doctoral degree.

Visa Validity:

At the time of application, you should hold a valid student visa or have held one in the past six months.

Age:

You must be under 50 years of age.

English Proficiency:

A competent level of English is a must, usually proven through tests like IELTS, TOEFL, or PTE.

Australian Study Requirement:

You should have completed a course that took at least two academic years (92 weeks) and was conducted in English.

Health and Character:

Like any visa, there are health and character requirements to ensure the safety and well-being of the Australian community.
Potential Salaries in Australia
Australia isn't just about the experience; it's also about the potential for a lucrative career. Here's a glimpse of average annual salaries in various fields:
Business and Finance:

AUD 70,000 to AUD 120,000

Engineering:

AUD 60,000 to AUD 110,000

Medical and Health:

AUD 80,000 to AUD 150,000 (depending on specialisation)

Information Technology:

AUD 65,000 to AUD 120,000

Education and Teaching:

AUD 65,000 to AUD 100,000

Hospitality and Tourism:

AUD 50,000 to AUD 90,000
Remember, these figures are ballpark estimates, and actual salaries can vary based on the city, company, role, and individual experience.
Australia's post-study work opportunities are a bridge between academic achievements and professional aspirations. They offer a chance to apply what you've learned, gain global exposure, and set the stage for a promising international career. So, as you chart your academic journey in Australia, remember that the adventure doesn't end with graduation; in many ways, it's just beginning.
Wrap Up
The journey to studying in Australia begins with a single step: the application process. And while it might seem complicated, remember that you don't have to navigate it alone. Expert guidance can make all the difference, ensuring that your application stands out and that you're well-prepared for the adventure ahead.
So, as you contemplate your next big move, consider Australia. And when you're ready to embark on this exciting journey, seek out experts who can guide you every step of the way. After all, your Australian dream is waiting, and it's time to make it a reality.
What are the work rights for international students in Australia?
Starting from July 1, 2023, international students can work up to 48 hours every two weeks during the academic term. During vacations, there's no limit, allowing students to work full-time.
Are there scholarships available for Indian students in Australia?
Yes, numerous scholarships cater specifically to Indian students, ranging from university-specific scholarships to government-funded ones. It's essential to check eligibility criteria and apply early.
How can I extend my stay in Australia after completing my studies?
Australia offers post-study work permits for upto 8 years, allowing students to work and gain experience in the country after graduation. The duration varies based on the qualification and region.
What is the average cost of living for a student in Australia?
The cost of living can vary based on the city and lifestyle. On average, a student might spend between AUD 1,500 to AUD 2,500 per month, including accommodation, food, utilities, and other expenses.