Is PTE Accepted in Canada?
We sense the bubbling enthusiasm and the flurry of questions as you stand on the cusp of a new educational chapter in Canada. It's a thrilling path loaded with potential discoveries and lifelong friendships. Yet, before you immerse yourself in this vibrant journey, there's a vital cornerstone to address – securing a promising score in the Pearson Test of English, or simply, the PTE. Is PTE accepted in Canada, you wonder? Why does the PTE score hold such an important place in your goal to study in Canada, you wonder? It's essentially your ticket to seamlessly blending into the academic life that Canadian universities have to offer. So, as you set your sights on the maple leaf country, let's unravel the significance of the PTE score in your student visa application.
What is the Minimum PTE Score for a Canada Student Visa?
When it comes to applying to study in Canada, getting a firm grasp on the PTE score requirements is your first port of call. The PTE assesses your English language ability in various segments, such as listening, reading, writing, and speaking. And here's a little heads-up – the score requirements can vary quite a bit, depending on the level of study and the specific program you're applying for.
Generally, if you're aiming for a diploma, a score of around 45 should be your target. But for a Bachelor's degree, aim for a score above 50. Remember, a balanced score across all sections can be your ace in securing a spot in your dream university.
Catching Up with the Recent Updates
In the ever-evolving educational industry, staying updated with the latest developments is key. Recently, Immigration, Refugees, and Citizenship Canada (IRCC) has given a nod to some changes in the PTE Academic score requirements for Student Direct Stream (SDS) applicants. Starting from August 10, 2023, the PTE is accepted in Canada for the SDS program with a minimum score requirement set to 60, opening up new avenues for students like you, brimming with dreams and aspirations.
List of Top Universities with Minimum PTE Score for Canada
Choosing the right university is a crucial step in your Canadian journey. To help you navigate this, we've put together a table showcasing the top 10 Canadian universities along with their respective minimum PTE score requirements. This should give you a clear picture of the diverse score requirements across different universities.
| University Name | Minimum PTE Score (Undergraduate) | Minimum PTE Score (Postgraduate) |
| --- | --- | --- |
| University of Toronto | 60 | 65 |
| University of British Columbia | 65 | 68 |
| McGill University | 68 | 70 |
| University of Alberta | 60 | 65 |
| McMaster University | 59 | 64 |
| University of Montreal | 58 | 63 |
| University of Calgary | 60 | 65 |
| University of Ottawa | 60 | 65 |
| University of Waterloo | 63 | 67 |
| Western University | 60 | 65 |
Is PTE Accepted in Canada for a PR Visa?
Going on the path to Canadian permanent residency is quite an adventure, isn't it? However, an important step in this journey is showcasing your English language skills, indicating your readiness to integrate seamlessly into Canadian society. The Pearson Test of English, popularly known as PTE, has become a favorite tool for many to achieve this. Let's explore how PTE is making waves in Canadian immigration.
A Fresh Ray of Hope
The Immigration, Refugees and Citizenship Canada (IRCC) has approved the Pearson Test of English (PTE) as a valid language test for Canadian immigration applications. This is indeed a breath of fresh air, adding a golden feather to PTE's cap and offering a great alternative to established tests like IELTS and CELPIP.
Pearson introduced the PTE Essential, aligning perfectly with the IRCC's high standards for Canadian immigration applicants. Moreover, this new addition has enriched the variety of language tests available, joining the ranks of French tests like TEF Canada and TCF Canada.
Decoding the Facts
Exploring the Canadian dream is a cherished goal for many, and getting a grip on the complexities of the immigration process is a giant leap toward realizing that dream. Language proficiency stands as a vital pillar in this journey, a fact substantiated by extensive research from Statistics Canada.
Interestingly, the benchmarks for language proficiency are quite flexible and can vary a lot, depending on the specific immigration program in which you're interested. For instance, if you're setting your sights on the Federal Skilled Worker Program (FSWP), you'd need to get a Canadian Language Benchmark (CLB) of at least 7 in all language abilities. But here's a tip: some pathways might be a bit more lenient, setting the bar at CLB 4. And here's a little secret: getting a higher CLB score can potentially swing doors wide open to more opportunities, especially in programs simplified through the Express Entry system.
The Road Ahead
The IRCC is buzzing with activity, gearing up to welcome PTE Essential scores into Canadian immigration applications. While the exact rollout date is still unknown, the anticipation is sky-high, hinting at a future where applicants have more choices and conveniences.
In this dynamic landscape, it's a smart move for candidates to sharpen their language skills and gear up for the PTE or other recognized language tests. A strategy with regular practice tests and study sessions can pave a smooth road ahead.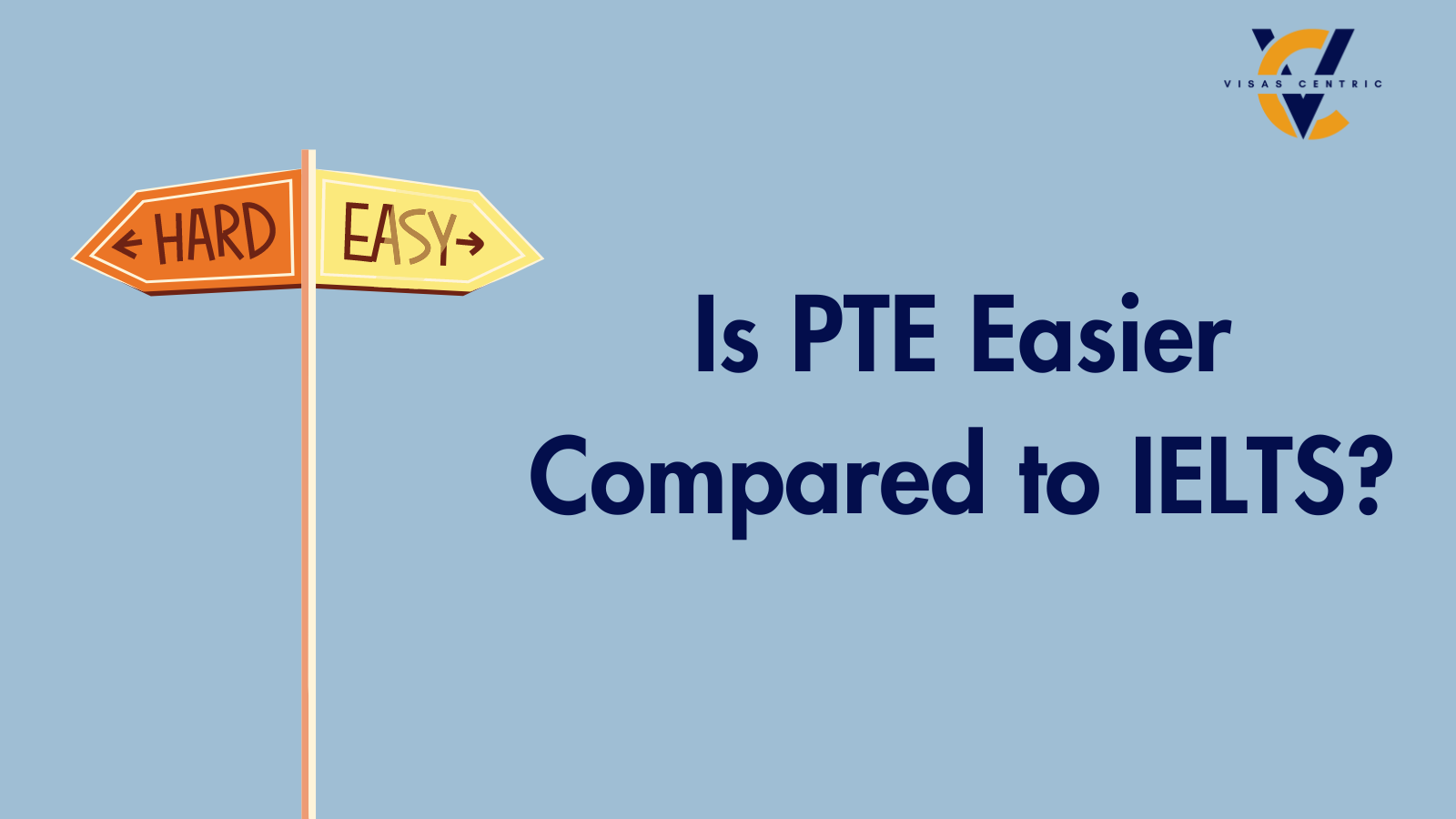 Is PTE easier than IELTS?
In English proficiency test discussions, two names often appear – PTE (Pearson Test of English) and IELTS (International English Language Testing System). Moreover, these tests, while serving the same purpose, offer quite different experiences. So, if you find yourself pondering which one to choose, you're not alone. Let's check out the information on both to help you make an informed decision.
Test Format
First things first, let's talk about the format. IELTS offers a paper-based version, comforting to many, especially if you prefer taking notes and prefer the traditional exam-taking method. On the other hand, PTE is fully computer-based, offering a smoother, faster process, especially appealing if you're tech-savvy.
Scoring System
In scoring, PTE seems more lenient, providing granular scores, and allowing you to score close even if you don't hit the bull's eye. IELTS, however, has a band system, which means you need to reach a certain threshold to achieve a band score.
Speaking Section
The speaking section in PTE is quite interesting. You'll be speaking to a computer, which might feel less stressful as compared to IELTS, where you interact with a human examiner. This could be a boon if you're a bit shy or nervous about speaking English in front of someone.
Weighing the Pros and Cons
Now, why might someone find PTE easier or perhaps more challenging than IELTS? Well, if you're comfortable with technology and prefer a quicker result turnaround, PTE is your go-to. It's modern, fast, and offers a relaxed environment, especially during the speaking test. However, if you value human interaction and believe it enhances your language skills, IELTS might be the one for you. Moreover, the paper-based approach can be a comforting aspect for many. So, the "easier" tag is quite subjective. It all boils down to your personal preferences, strengths, and comfort levels with the test formats. So, take a moment to select what suits you best before making a choice.
Whether an aspiring student or a professional targeting the Canadian job market, the PTE exam is a reliable companion in your journey. Every big dream begins with the decision to try. Your efforts and proper PTE exam preparation can be your golden ticket to a promising future in Canada.
Is PTE accepted in Canada for student visas?
Absolutely, the PTE score is widely accepted by many educational institutions in Canada. It serves as proof of your English language proficiency, an important benchmark for student visas. Before you apply, make sure to check the specific requirements of your chosen institution.
What is the minimum PTE score required for Canadian universities and colleges?
The minimum PTE score requirements can vary widely among different universities and colleges in Canada. Generally, you would need a score between 58 to 65 for undergraduate courses and 65 to 75 for postgraduate courses.
Are there any specific universities and colleges in Canada that accept PTE scores?
Certainly! Many prestigious universities and colleges in Canada accept PTE scores. Some renowned ones include the University of Toronto, University of British Columbia, McGill University, and many others. Additionally, various colleges like Seneca College, Humber College, and George Brown College also recognize PTE scores. It's recommended to check with individual institutions for their specific requirements.
ICAS (International Credential Assessment Service of Canada): A renowned organization offering comprehensive reports that are widely accepted in Canada.

IQAS (International Qualifications Assessment Service): Another reputable service that assesses international educational credentials and compares them to Canadian standards.

ICES (International Credential Evaluation Service): Based in British Columbia, ICES offers detailed evaluation reports, helping you smoothly transition to life in Canada.